Thurlow Switzer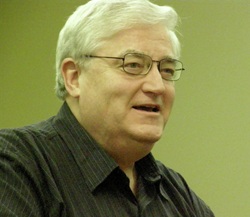 Thurlow Switzer has been in full-time ministry since 1963 and, in late 1998, he sensed the Lord was leading to begin Living Grace Ministries. The ministry launched as an apostolic sphere of ministry in October 1999, within what C. Peter Wagner calls the New Apostolic Paradigm movement. Currently, Thurlow moves among a growing fellowship of churches and pastors, providing counsel and guidance, teaming with local pastors in the training and equipping of believers as followers of Christ, leaders, servants, and in covenant interaction. Thurlow regularly conducts leadership seminars and speaks for men's and congregational retreats. He has three earned degrees, a Bachelor of Theology degree, Bachelor of Education degree, and a Masters of Biblical Theology degree. Thurlow serves as the apostolic pastor of Northgate Community Church in Gaithersburg, Maryland, as part of a three-person pastoral team.
Thurlow Switzer grew up in the parsonage, the son of Pastor James and Irene Switzer, a faithful pastor for over 50 years, and the missionary planter of 13 churches. Thurlow, saved at the tender age of 5 years and called to the ministry at 14, preached his first sermon at 16. He began to function as assistant to pastors at 18 years of age and became a senior pastor at the age of 23. Early in his ministry, Thurlow and Lynda Switzer were home missionaries and church planters with the Fellowship of Baptists for Home Missions. In 1967, he was the missionary pastor of a Baptist church in Latham, near Albany, New York, growing the church from 10 to 200 people in 4 years. During this time, he started a regional fellowship of independent churches, started the Albany Baptist Bible Institute, and actively functioned in youth work with monthly rallies and summer camps. In 1972, he became the apostolic pastor of
Northgate Community Church
in Gaithersburg, Maryland, a church that he pastored for 25 years, while birthing three churches from that congregation.
During Thurlow's years of ministry in the Washington D.C. area, he carried significant educational leadership roles. He was the founder and president of Montgomery County Covenant Academy, a Christian high school. He served as the founder and president of the Maryland Federation of Church Schools and helped lead the battle for educational freedom for several years in the State of Maryland. During the 1980s, he played a major role in a successful fight for the freedom of parents to home school their children. He was the Dean of Academics and later President of the Washington, D.C. based Messiah Biblical Institute and Graduate School of Theology for several years, serving with Dr. Dan Juster, apostle of
Tikkun Ministries
, a Messianic Jewish mission.
From 1981 to 1988, he served as part of the senior apostolic team for the New Covenant Churches, a strong, pioneering New Testament fellowship of 25 churches in Maryland. From 1988 to 1993, he shepherded a Maryland statewide fellowship of churches. From 1993 to 1997, Thurlow founded and led the Coalition of Mobilized Ministries (COMM) in Montgomery County, northwest D.C., a vibrant Church-of-the-City fellowship of pastors and churches crossing many denominational streams.
Moving out in 1993 in apostolic ministry, Thurlow joined his apostolic ministry with Antioch Churches and Ministries (ACM) with Apostle John Kelly from 1994 to 1999, moving in 1997 to the Dallas-Fort Worth, Texas, area to serve on the national apostolic council and team. While in Texas, Thurlow and Lynda established their membership and local church grounding with City Church in Fort Worth, with Pastor Martin Stephen, a church that is experiencing a long-term history of prevailing prayer and revival, and functions with a heartbeat to produce leaders and plant churches. Traveling around the nation for several years, Thurlow came to realize the heart cry of pastors everywhere desiring instruction in the pattern and methodologies of the apostolic New Testament church. Thurlow specializes in leadership training by means of seminars and dialogue retreats, and serves as a mobilized church consultant for pastors and local church leadership teams.
In October 1999, on the 30th anniversary of the founding of Northgate Community Church, Thurlow and Lynda were sent forth to begin Living Grace Ministries. In 2000, Thurlow and Lynda returned to Gaithersburg, Maryland from Texas. Today, he serves as the president and apostolic team leader for the Living Grace Ministries apostolic team, serving churches in the Northeast, New York, Massachusetts, Pennsylvania, and in the Southeast, South Carolina, Florida, and Maryland. Thurlow continues to be actively involved in church planting and leadership development. Within the spirit of "commonwealth," Thurlow also has a ministry of encouraging emerging apostles and apostolic ministries who desire to share their lives and gifts with one another. Thurlow also serves on the leadership team of a group of apostles who meet together under the name of
ARC, Association of Radical Churches
.
Thurlow's abiding motive and mission has always been the development of leaders, the discipleship of faithful followers to the ways of Jesus, and the impartation of a passion for Holy Spirit-empowered living - believers expressing the indwelling life of Christ. He specializes in understanding and blueprinting the principles, order and functioning of the local New Testament church in ways that reflect the spirit of living grace in action. The Living Grace apostolic sphere is actively planting several new churches.
Thurlow has traveled extensively for apostolic missions work touching such countries as Jamaica, Ecuador, Dominican Republic, Ukraine, Togo, Ghana, Liberia, and Hungary. One of the churches related to Living Grace Ministries has strong ministry in Botswana, and another in Mexico. One of our pastors has done work among the Palestinians in the nation of Israel.
Under the name
Adventure of Family Life
, Thurlow and Lynda jointly teach marriage, parenting, and family life seminars because they are committed to establishing the most basic first-line of defense in the local church, the Christ-centered, Spirit-filled family. Thurlow J. Switzer and his wife Lynda have given themselves for over 35 years to present God's word in a logical, graphic and relevant manner for the edification and building up of God's people and for the training of leaders. Thurlow and Lynda are the parents of four grown children, all married, and have seventeen lovely grandchildren.
---